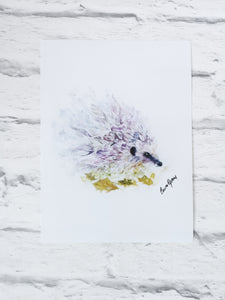 Hedgehog Watercolour Art Phone Accessories
Regular price $10.00 Sale
Hedgehog mandala watercolour phone accessories from Inkterior Art by Laura Gray. Here you can choose from either a phone stand or phone grip.
Are you like me and love hedgehogs, or know someone who does? Here you can order my watercolour art work on a number of different items. The watercolour art is painted by me. 
All pieces are hand printed.
Phone stands mdf 15cm when erect, with a slot for a charger cable

Phone grip will be random white or black in colour and are 4cm in diameter and open up to 2.5cm when fully open. These are attached by a sticky pad to the back of your phone or phone case. Please ensure phone/case is clean before attaching. It cannot be taken off and reattached. 
If you would like any other printed products with my art on please get in touch as I'm always trying new things, such as aprons, tea towels, badges etc