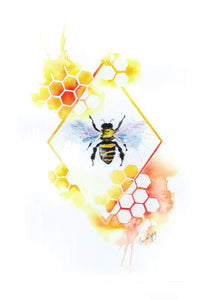 Bee Watercolour Wall Art Print
Regular price $11.00 Sale
Bee watercolour wall art print from Inkterior Art, created by Laura Gray.
This stunning bee and honeycomb original watercolour print was painted by me and is now available as a print right here! It would great on any wall, with It's natural vivid colours that are captured in this fluid painting.
Art print sizes are : 8 by 6 inches, A4 and A3. If you would like a larger size please get in touch. They come unframed. 
If you are ordering an A3 print, please allow printing time (up to 2 weeks) as these are custom prints and not readily available in stock.
If you would like any other printed products with my art on please get in touch as I'm always trying new things, such as aprons, tea towels, badges etc.