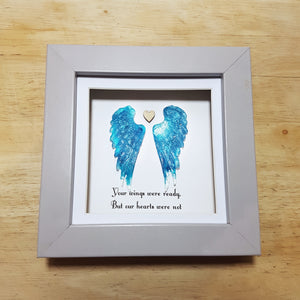 Angel wings remembrance resin art
Regular price $20.00 Sale
These lovely resin art wings are a great remembrance gift for a loved one that is sadly no longer with us. The beautiful wings are made from resin and ink and are mounted with a remembrance quote ' Your wings were ready, but out hearts were not.  Inkterior Art makes all of the wings from scratch so custom colours are available on request. A choice of different hearts are available too.
Larger personalised remembrance resin art pieces are available from Inkterior Art, just contact for a quote.
This remembrance gift box frame measures 12cm square, and is available in either white box frame, grey or black, to match your decor.